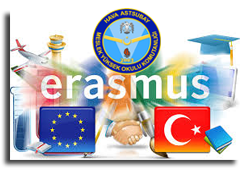 Turkish Air Force Non-Commissioned Officer College (TUAF-NCOC) is a military aviation higher education institution which aims to educate airmen that have the capability to keep up with and utilize the modern aviation technologies. The history of the institution backs to 1926 which was first established with the name of Air Machinist School. In 2003, TUAF-NCOC became a short cycle (4 semesters) higher education institution. In 2012, TUAF-NCOC began to offer ten degree programs ranging from aviation mechanics to computer programming. Since then, the program courses have been successfully integrated to ETCS according to the Bologna Process principles. The curriculums and course descriptions are continually updated and published on the web.

The ultimate mission about internationalization of TUAF-NCOC education system is to embrace and integrate to the universal aviation technologies, contribute to the scientific knowledge and become a gravitational science center in its field domains. With this mission, we desire to collaborate and cooperate with our peer partners around Europe. Hence, all the higher education institutions, universities, military colleges that hold the Erasmus Charter for Higher Education (ECHE) which carry well-matched curriculums to TUAF-NCOC will be regarded as possible candidates to cooperate with. The contractual agreements will be signed according to Bologna Process principles and responsibilities declared will be followed thoroughly. The outcomes of the mobility activities and project packages will be published on our web site. In addition, while choosing the partners, we will consult the academic staff that carry PhD degrees and have experience in doing research with collaboration.

TUAF-NCOC is committed to providing a diversified academic experience for students and academic staff by integrating to the key actions and good practices provided within the EU and Erasmus community. One justification example for this mission is that: as a part of the air traffic control program, TUAF-NCOC has admitted the ICAO (International Civilian Aviation Organization) Annex-1 Personnel Licensing principles and Eurocontrol Common Core Content Training-14 specifications and guidelines in the educational infrastructure. In addition, the students and academic staff are highly motivated to integrate to European common sense. With this in mind, we place great importance on support for the mobility of students and personnel by making sure that a balance is maintained for opportunities for mobility activities.

Moreover, TUAF-NCOC is committed to provide 70% of its academic staff with mobility activities and aims to sign at least 20 agreements with higher education institutions, universities, military colleges and research centers around Europe. For a sustainable future aviation, TUAF-NCOC is highly enthusiastic to take part in the cooperation and collaboration projects with European partners especially on aeronautics and aviation technologies. In order to contribute to the scientific knowledge on the field domains, we will take part in the international projects with our newly established 35 laboratories and disseminate the outcomes on web.

Along with full recognition of the courses taken abroad, TUAF-NCO will assist the incoming students with academic mentoring hours and provide extra Turkish Survival/Turkish Culture lessons free of charge. Also both for the incoming students and academic staff, we will provide accommodation support in our cadet dormitories and at our officers' club hotels.


Strategy for the organization and implementation of international cooperation projects

From the point of view of our university strategy for internationalization and modernization, cooperating and collaborating in international projects is a key asset to maintain growth and drive forward. Also the professional development of our academic personnel plays a crucial role in individual advancement and in providing the highly skilled and modern intellectual awareness. With this vision, in 2014, TUAF-NCOC has launched 35 new laboratories to support the teaching activities and to conduct research and development projects. As it is detailed in our web site these laboratories range from aerodynamics, avionics, electronics, construction, automotive, communication to computer programming etc. We will provide support for the incoming personnel and incoming students who take part in the cooperation projects with utilizing our laboratories. 

In TUAF-NCOC the "Spring and Science Festival" is conducted for a week at the end of May annually. During the festival days, students publish and introduce their projects. We also plan to integrate the incoming students to take part in these project activities in order to harmonize the students with their Turkish friends.

By implementing the cooperation projects, we believe that we will contribute to the stimulation process of transferring knowledge from education to industry. In addition, while TUAF-NCOC is an aviation and aeronautics college, for international projects we will focus on these field domains and we will prefer to participate in the projects that are sustainable and balanced.


The expected impact of your participation in the Erasmus+ Programme

By integrating to the Erasmus+ Community, the expected impacts of TUAF-NCOC participation are explained as follows:

1. Increasing attainment levels to provide graduates and researchers that Europe needs for the future: TUAF-NCOC is a military aviation college which mainly focuses on internationalization of the educational activities with harmonizing the practical applications. Student and staff mobility is regarded to be a key element in achieving this aim through developing experience and enhancing knowledge. Also keeping close interactions between partners will foster to develop new research fields and teaching techniques among European Community.

2. Improving the quality and relevance of higher education (HE): TUAF-NCOC is wholly committed fostering and improving the quality of HE with its comprehensive and contemporary program fields. We also believe that relevance of an education system can be achieved by integrating to the cooperation projects with European and international partners and sharing the good practices. In addition, the mobility of academic staff serves opportunities to discuss teaching methodologies, discuss program outcomes and improve the quality of the program courses. 

3. Strengthening quality through mobility and cross-border cooperation: In order to keep sustainable quality assessments, the quality of the education system and integration to modern technology are the key factors to be improved. The mobility activities, training opportunities and development of cooperation projects that are promoted by the Erasmus+ Community are robust means to enhance both of the aforementioned factors. Also blending and harmonizing the students and academicians within the initiatives will enable and foster the integration of scientific principles into modern technology.

4. Linking HE, research and business for excellence and regional development; Education, research and business are the three sides of the "knowledge triangle". In order to contribute to the European prosperity, the potential of higher education institutions and research centers shall be harmonized with business. By establishing close links between the partners, increasing the flow of knowledge and cooperation between institutions will give rise and facilitate the regional development. 5. Improving governance and funding.

Financial restrictions limit institutional freedom to define strategies and structures. By reducing restrictions, the efficiency of the HE institutions can be improved. In order to keep up with the modern era, HE institutions play a major role for disseminating scientific knowledge and enhancing mechanisms to reach excellence. However, higher education institutions require adequate funding for keeping and improving education and research activities and balancing autonomy. Hence, Erasmus+ plays a vital role in providing a more flexible governance and funding system and to stimulate and balance greater autonomy.